If you have dead, overgrown, or damaged trees on your residential or commercial property, this can both detract from its aesthetic appeal and pose safety risks. Rather than allow your property's beauty to fade or put visitors to your property at risk, call on the tree trimming and removal experts at Mark Douglas Lawncare Inc. I offer professional tree removal for home- and business owners in Venice and the surrounding areas, and my services are just what you need to ensure that your property stays beautiful and safe. If you're in need of expert tree removal service, call or e-mail me today to find out more about your options!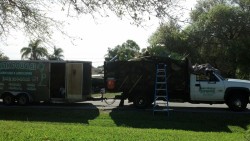 While some property owners assume that tree removals are simple, the truth is that removing trees is a complicated process that can cause damage to your property and to your person if you're not careful. That's why trees removal should be handled only by professionals with experience. When you hire me to handle trees that have become a problem or an eyesore on your property, you'll benefit from my extensive experience providing tree removal service to Venice-area property owners. For more than a decade, I've provided top-quality tree removal services to local home- and business owners, and I can't wait to offer my services to you. Rather than work with large tree removal companies that won't take the time to consider your particular needs, put your trust in me to provide you with flawless tree trimming and removal service.
Comprehensive Tree Removal Service
When you hire me to provide you with tree removal service, you can count on getting thorough, reliable results. I'll take your needs into consideration before designing a plan for effective trees removal, and then work efficiently to get the job done right. Whether you need tree branch removal or removal of an entire tree on your property, Mark Douglas Lawncare is here to meet your needs. If you're looking for tree stump removal, I'm happy to refer you to one of my trusted associates who will remove the stumps carefully, ensuring that your property can look its absolute best.
When you want to clean up your property and ensure that it's a safe place for your family or employees and customers, I'm the tree removal pro you can trust for impeccable results. Call or e-mail me at your earliest convenience to learn more about my tree removal services!