Are low-hanging limbs in your backyard posing a threat to the safety of your children or other visitors to your property? Would trimming trees on your property improve your view? Is a storm-damaged tree causing your property to become a neighborhood eyesore? While trees can add an element of beauty to both residential and commercial properties, they can also become unsightly and even dangerous if they're not tended to properly. If you want to ensure the protection and beauty of your Venice-area property, then occasional tree trimming from Mark Douglas Lawncare Inc. is your best bet. I'm here to offer professional tree trimming and pruning services that will ensure your property's beauty and safety. Call me today to learn more about my services or to make an appointment!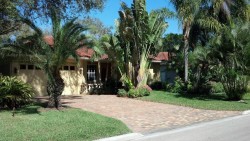 While the idea of trimming trees on your own might seem appealing to you, the truth is that it takes experience and skill to prune trees appropriately. Without the right level of experience, you could suffer serious personal injury, damage the tree, or create an even more dangerous situation for visitors to your property. That's why you should rely on Mark Douglas Lawncare to handle tree trimming and removal at your property. I have over a decade of experience with trees trimming, and that means you can count on me to provide you with top-quality results. When you hire me to provide you with tree trimming and pruning services, I'll analyze the current state of your trees, your property, and your safety needs before I provide an effective solution that will transform the look of your tree. From broken-off branches to diseased limbs, there are no tree trimming services I can't provide.
Free Estimates for Tree Trimming
If you're worried about the costs of tree trimming and removal, you can count on getting free estimates for services from Mark Douglas Lawncare. When you turn to me for tree trimming service, you get an upfront estimate of my fees before you agree to work with me. That way, you can rest assured that you're sticking to your budget. If you do choose to hire me to trim trees on your residential or commercial property, you'll benefit from my commitment to providing all customers with impeccable results and superior customer service. Protect and beautify your property today by calling or e-mailing me and booking my professional tree trimming services!