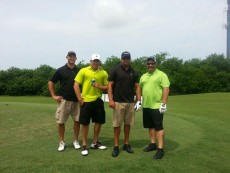 Keeping your lawn looking great can be an arduous and time-consuming task, and, unfortunately, most property owners simply don't have the necessary time or energy to devote to keeping up with their lawn care. Rather than letting your grass grow tall and your flower beds succumb to seemingly ever-present weeds, call on Mark Douglas Lawncare Inc. for expert lawn care and maintenance services. From mowing services to tree trimming, I offer a wide range of lawn care services to home- and business owners throughout the Venice area. No landscaping or lawn maintenance issue is too big or small for me to handle, so pick up the phone today and get the help you need to keep your lawn looking stunning in every season.
When you turn to Mark Douglas Lawncare for help keeping your yard in shape, you'll benefit from my deep commitment to customer satisfaction. As a Venice native, I'm proud to offer professional lawn care services and lawn maintenance to local property owners. You can call on me for a wide range of lawn care and maintenance services, including:
Mowing
Edging
Mulching
Planting
Pruning
Tree trimming
Tree removal
Planting flowers
Planting trees
Landscape design
Spring and fall lawn cleanups
Leaf blowing
Grading
Shell/rock driveways and walkways
And more!
No matter what type of assistance you need with your residential or commercial lawn, you can depend on me to provide you with top-quality lawn care service. I have more than 14 years of experience in the lawn care and maintenance services business, and I'll use my experience to help ensure that your yard is well-kept throughout the year. Also, I'm fully licensed and insured to ensure your peace of mind when you book my tree removal or mowing services. So rather than get your hands dirty trying to keep your yard tidy and attractive, let me handle all of your lawn and landscaping needs.
Year-Round Lawn Care and Maintenance Contracts
While I'm always here to offer customers lawn services whenever they need their grass trimmed or flower beds mulched, I also offer lawn service and maintenance contracts for property owners who need regular services throughout the year. Whether you need mowing, edging, leaf blowing, or other services on a weekly basis, I can provide you with a contract that will meet your needs. By entering into a lawn care service and landscaping agreement with me, you can look forward to always having a beautiful-looking property without having to waste your own valuable time. Plus, unlike most lawn care companies out there, I won't rope you into signing a written agreement for lawn service. With a verbal agreement and a handshake, you'll be on your way to have a perfectly manicured lawn week in and week out. Call Mark Douglas Lawncare right away to get your free estimate for my lawn services!